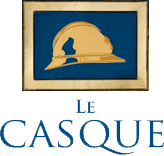 ---
Online, on site, tastings, and events in Fridays nights (21+)
Casque Wines produces wine from the best vineyard sources in the Sierra Foothills. We embrace the time honored French tradition of blending different varietals to create wines that are greater than the sum of their parts. We also create varietal wines that display special character in their own right.
Our tasting room patio is the perfect spot for a relaxing afternoon. Partnering with the Flower Farm Cafe, enjoy lunch and a bottle of wine.
We invite you to visit our Tasting Room at the Flower Farm Thursday thru Sunday, 11AM to 5PM. We are a dog and family friendly tasting room with a lovely patio overlooking the pond and nursery. We share this beautiful property with the Flower Farm Cafe, Nursery Giftshop, Event Barn and Bed & Breakfast. The setting is one of the most enjoyable in Placer County. We hope to see you soon.
Enjoy our patio and tasting room on a first come, first served basis. Interested in visiting with a large group? No reservation required! However, with our limited capacity we unfortunately cannot accommodate parties larger than 10 during operating hours. Limos must call in advance. Please, no party buses.
Bicycles and four legged friends are always welcome!