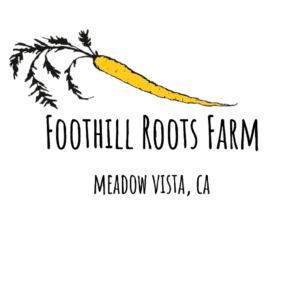 Point of Contact:
Diane & Patrick Bollinger
---
On farm sales, CSA, Vegetable share, Fruit share, Bread share, U-Pick Flowers
We are a Certified Organic vegetable farm. Our fields are just minutes from Hwy 80 on Placer Hills Road.
Winter Hours November- January Thursdays 1pm – 5pm;
Summer Hours May-October: Thursdays & Fridays 2pm – 7pm
The farm is run by Patrick and Diane Bollinger. We both grew up in the foothills of California and feel fortunate to be farming this amazing piece of land so close to where we were both spent our childhood.
We believe that growing good food feels GREAT! All of our produce and animals are grown following organic growing practices, but we have chosen not to be certified. We welcome any and all questions regarding our growing practices. We are working hard to be good stewards of this land. We use cover crops, compost, annual and perennial plants to attract beneficial insects, and minimal tillage to maintain and enhance our soils fertility and our plants' health.
We want our farm to be a place to connect with friends family and neighbors, a place of beauty, fun, and inspiration. We believe that seeing customers smiling faces when they receive our produce is food for our souls. And finally we believe that farming is an evolutionary process. We are always learning, innovating, stream lining our systems, and adapting in order to become better more educated farmers.
Thank you for giving us the opportunity to dig our hands in to this fertile soil, follow our passion, and grow for you, our community, the highest quality and tastiest food.